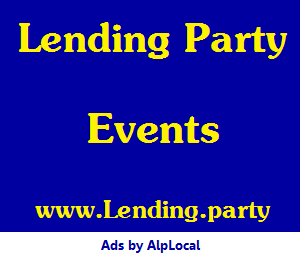 WHY COME TO A LENDING PARTY?
Installment Loans up to $5,000
Local Consumer Loans

Local Personal Loans

Local Secure Funds

Local Business Loans

Local Auto/Car Loans

Home Repair Loans

Car/Truck Repair Loans

Appliance Repair Loans

Moving/Vacation Loans

Guaranteed Lending Benefits

Smart Business Decisions

Local Business Referrals

Networking Opportunities

New Business Friendships

Meet your capital needs
Join Us At The Lending Party!
---
Find Your Favorite
FIVE STAR LENDING PARTY EVENT
Loans – Money – Services
On Mobile … Fast!

---

This Premium

Space

Now Available
Lending.Party

LendingParty.com